In our generation, it is becoming more important to be aware about the things in the environment. We must find ways to think green and to be energy efficient   Being knowledgeable about terms like "LEED certified" and "green technologies" can help you do the right thing to make our futur a good one.  We must think of the next generations and we can definitely make a difference. Small steps can make a big change!
What is  LEED?
From individual buildings and homes to entire neighborhoods, LEED is transforming the way we think about how our buildings and communities are designed, constructed, maintained and operated across the globe. Comprehensive and flexible, LEED is a green building tool that addresses the entire building lifecycle recognizing best-in-class building strategies.LEED certification is presented based on performance in five key areas of human and environmental health, including sustainable site development , water efficiency, energu efficiency, materials selection and indoor environmental quality.
What can LEED do for you?
Lower operating costs and increase asset value
Conserve energy, water and other resources
Be healthier and safer for occupants
Qualify for money-saving incentives, like tax rebates and zoning allowances
TIOCOAT Flat Roof Solutions
TIOCOAT flat roof solutions is a way to reduce energy consumption in a white  rubber roof coating. Tiocoat flat roof solution is a company that makes a white roof or rubber roof coating and it  is guaranteed for the life of the building. TIOOAT provides reflectivity of solar radiation, which will reduce the buildings energy .  It sure is something to consider!
The purpose of the Inovo Centre is to demonstrate various green energy technologies. You will find many features: a geothermal system, solar photovoltaic panels, a solar thermal system, a wind turbine and a wood pellet stove.
Mission
A unifying Centre of knowledge, innovation and research and development that works in the dissemination of knowledge and best practices for development of northern communities through strategic partnerships.
Vision
The Centre will contribute to the development of Northern Ontario by enabling organizations and communities to integrate economic, technological, ecological and social innovations while enjoying a diverse culture. Inovo center was build with local recycling. For example: The bricks from and old restaurant, the windows from the university, and the wood from our forests and many local products. What is renewable energy? It is energy which comes from renewable natural resource, such as water, that is continuously renewed during the human time scale.The Inovo center uses wind energy, solar energy and geothermal energy, which are all types of renewable energy.A wind turbine transforms energy from the wind into electricity and provides electricity to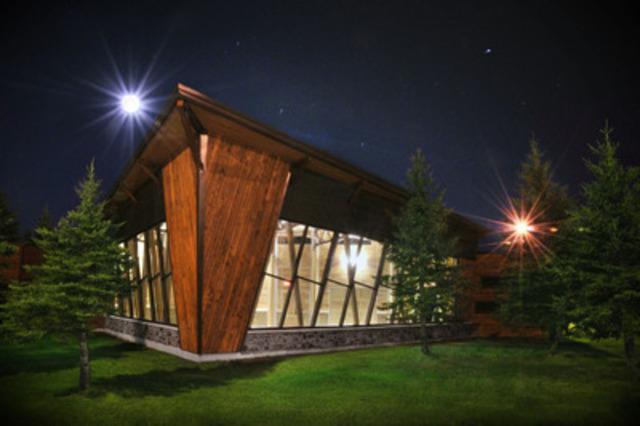 the Inovo Centre. The energy production varies according to wind speed up to 3kW. Solar energy transforms the energy from the sun's rays into heat ( solar thermal) or electricity (photovoltaic). In the winter time, the air exchanger uses outside air heated by the JumboAir solar system in order to provide fresh air to the Inovo Center. The is also a photovoltaic panel that charges a battery to meet the essential electricity demand ( security lights, exit lights and parking lights). The sunrain system produces heat that is transferred to the geothermal system to meet building heating demand. Geothermal energy uses temperature from the ground to heat and to cool the building. The system has three key component. Heat pumps and distribution system and underground loops. The heat pumps are using the ground temperature, the heat pumps provide heating or cooling to the distribution system. The distribution system contains different parts, such as pipes, a
computer, a radiant heat system, heat and cooling furnaces, and batteries to store thermal energy. The underground loops are comprised of ten 150 foot deep piles. A heat transfer liquid circulates through the loops and is either heated or cooled by the ground temperature before coming back to the heat pump. The building has an eMonitor system that collects real-time energy consumption data for each electrical component : furnace, fridge, computer etc… The Data allows to identify components that consume too much energy and make the changes needed. Also, daylight is used in 75% of the building. They use rain water for landscaping.
Everybody can make a difference!
simple steps like:
Lower your heating and cooling costs by setting your thermostat a few degrees higher in the summer and a few degrees lower
Use cold water to wash your clothes as often as possible.
Dry your clothing using a drying rack or clothesline.
Phase out your standard light bulbs and install compact fluorescent light bulbs (CFLs).
Unplug appliances and electronic when they are not in use
walk instead of using a car
close the lights!
take shorter showers
Thank you for reading my post,
Miss teen Hearst world 🙂